This post is for copies of manuals and other stuff that I can't find online. If I have a copy I will scan it and post it here. I expect this post will typically be found by people searching for specific things listed here. I'll add things as I get them.
There are a few floppy images mostly of driver disks, made with WinImage. You can download WinImage and use it free for 30 days, plenty of time to make copies of, or extract files from, floppy images downloaded here. But I strongly suggest registering your copy — it is a useful program and worth supporting.
If you find any of these postings useful, please leave a comment! Thank you!
---
Casio MS-80TE Calculator
This also applies to the HS-85TE, the SL-305TE, and the SL-910TE.
---
Sears Weider Crossbow Exercise Machine
This is for model number 831.153951. There are no doubt other similar models of this machine with different model numbers for which this manual would be useful.
As the machine is basically a copy of the Bowflex machine, books and manuals written for the Bowflex are useful for people with the Crossbow.
The machine itself has been sold as parts on eBay.
The manual is a PDF file of the original User's Manual for the machine. It contains assembly and adjustment instructions, a parts list and exploded view, and very brief instructions on use of the machine. It doesn't have information on specific exercises done with the machine.
---
Bektronic Computer Parts
Bektronic was a lesser-known Chinese computer parts supplier fairly widely used back in the 1990s and 2000s. Their manuals typically don't have a brand name (as is true of many Chinese knock-off brands).
---
IBM Cobalt-AT 486 Blue Lightning System Board
IBM actually sold motherboards for building clones for awhile. I sold quite a few computers built with these motherboards — they were cheap and fast. I still have one which I'm planning on putting on eBay once I get the dead BIOS battery replaced. Here is the manual for it:
IBM Cobalt-AT 486BL System Board
Here is the driver disk that came with it. It is WinImage format floppy image (1.44 MB), zipped so I could upload it.
---
Generic UN-1072 IDE Multi-I/O Card
This is a very common generic 16-bit ISA multi-I/O card. This particular one was purchased 11/02/93 from Triton for $12.27. It has a Winbond chip and is probably typical of many of these cards.
---
Generic Oak VGA Card
This is a manual for a generic Oak VGA card from 1991.. The specs are 1024×768 512K. It was originally purchased from IPX Informatic on 12/12/91 for $39.99. It is amusing because it is so typical of generic parts of the era: no brand name or manufacturer but including a warranty card. They tried very hard to look legit.
---
Vitex H757AF IDE Multi-I/O Card
This is a manual for a late version of a generic Winbond-based IDE Multi-I/O card. It was originally purchased from Triton on 8/3/95 for $10.21.
Vitex H757AF Winbond W83757AF IDE Multi-IO Card #2503
---
Generic Trident 8900D Super VGA Card K928
This manual is for a generic Trident 8900D super VGA card vintage 1995. These were very common in very many generic versions. This particular one was originally purchased from Triton on 5/31/95 for $58.45. The specs are 1024x768x256 1MB.
This is a driver disk for a different Trident 8900D VGA card. I think driver disks are pretty much interchangeable.
---
Generic Trident PCI-47 TGUI9440AGi VGA
I found a manual for a generic version of the Trident 9440 VGA. It took a while but I finally got a complete copy scanned. Here it is:
---
CNet CN30BC Ethernet PCMCIA Card
This is an off-brand LAN card for laptops with a PCMCIA slot. CNet sold a lot of stuff back in the day, and it was pretty good for cheap hardware. It's probably a design used by many off-brand manufacturers. (Hint: the manual doesn't say CNet anywhere.) Anyhow, here is the manual:
And here is a zipped copy of the contents of the driver disk:
---
Wentop Digital Timer
This is a cheap Chinese digital timer for controlling power to a device. It has a tiny instruction sheet which you've probably lost, and it's sufficiently non-obvious how it works that you need the instructions every time. Here it is:
---
Atlas Workshop Tools 1952 Catalog
This is a copy of a catalog for Atlas Workshop Tools, a line of low-cost woodworking tools made in the US back when such things were made here. An eBay listing for a copy of this catalog says it is from 1952, but I suspect it may be from around 1956. In any case, it's old.
I sold my copy on eBay so you're probably out of luck if you want an original. If all you want to do is look at it, here you go:
DBtech 35mm Film/Slide Scanner
DBtech has made a number of film/slide scanners under a variety of names and model numbers. The one I have doesn't seem to have a model number, so you'll have to look at the pictures in the manual to see if it is like yours.
I think they are all pretty similar in operation, so if yours is different this may still help. It's not easy to figure out how it works without the manual.
Teac FD235 Series 3.5″ 1.44 MB Floppy Disk Drive Installation Guide
This is interesting because it describes how to install 3.5″ drives in PC/XT/AT computers that don't have BIOS support for them. There is a reference to a driver that provides such support ("Bastech driver"). I don't have one and don't know where to get one. Google will probably help.
Multi I/O Card IODE-3290U
This is a manual for yet another no-name multi-I/O card, this one "Model IODE-3290U". The card has IDE HDD/FDD/2 serial/1 parallel/1 game ports, like most all such cards.
If you have one of these or one that looks like it, the jumper settings might be helpful.
Bektronic Multi-Motherboard Driver CD from 2001
This is an ISO CD image file containing the contents of a driver CD that came with a 2001-vintage Bektronic motherboard. It has drivers for most of the motherboard chipsets of the era and would probably work for most motherboards based on those chipsets. I would have uploaded a zip file of it but WordPress doesn't allow them.
Here is a picture of the CD which lists chipsets and Bektronic motherboard models which are supported by this CD: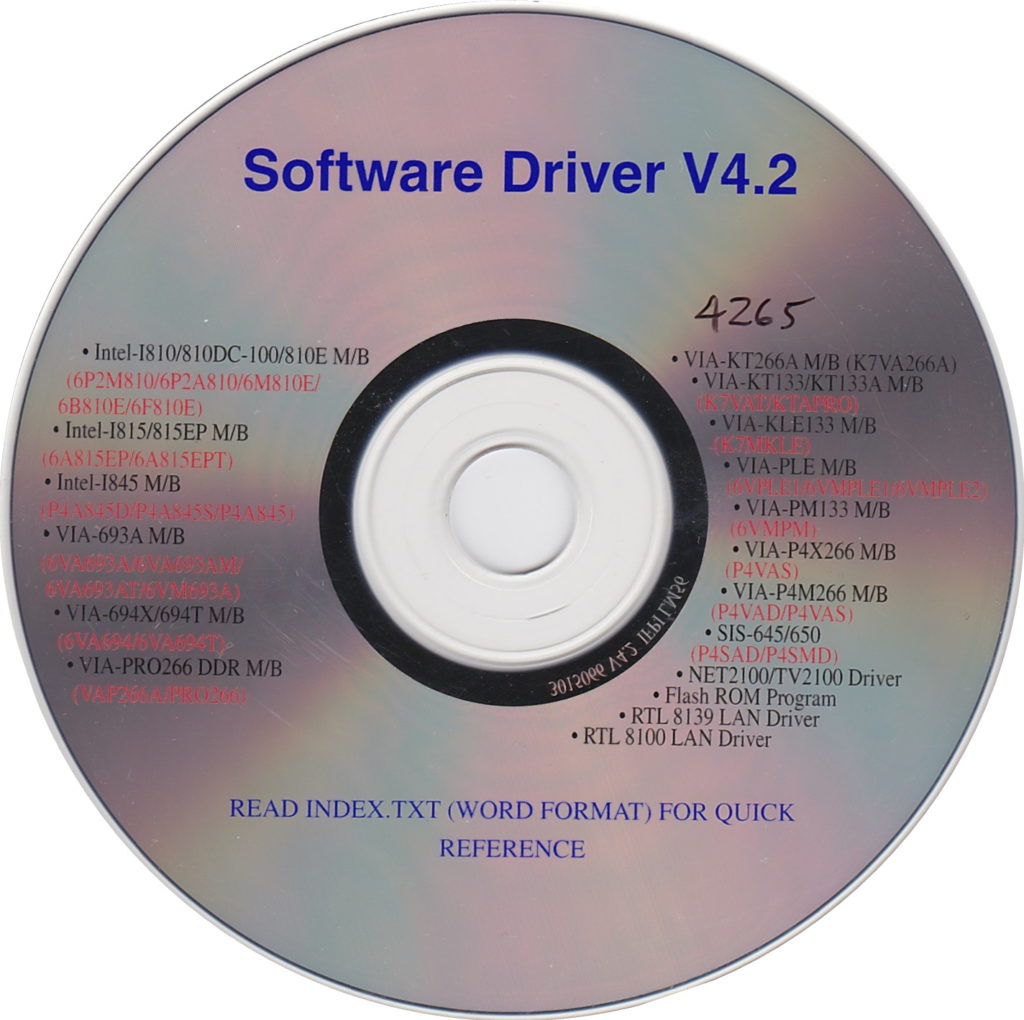 I've also uploaded the ISO image of this CD to the Internet Archive http://archive.org should you wish to access it that way. The Internet Archive is a great and growing resource for obsolete software of all kinds.
Below this line is a list of chipsets and motherboards as printed on the CD, to help people find this post using search engines. Chipsets are listed with the Bektronic ("BEK") motherboards that use them following each group of chipsets. A ew other thigs on the CD are at the bottom of the list.
---
Intel I810
Intel 810DC-100
Intel 810E
BEK 6P2M810
BEK 6P2A810
BEK 6M810E
BEK 6B810E
BEK 6F810E
Intel I815
Intel 815EP
BEK 6A815EP
BEK 6A815EPT
Intel I845
BEK P4A845D
BEK P4A845S
BEK P4A845
VIA 693A
BEK 6VA693A
BEK 6VA693AM
BEK 6VA693AT
BEK 6VM693A
VIA 694X
VIA 694T
BEK 6VA694
BEK 6VA694T
VIA PRO266 DDR
BEK VAP266A
BEK PRO266
VIA KT266A
BEK K7VA266A
VIA KT133
VIA KT133A
BEK K7VAT
BEK KTAPRO
VIA KLE133
BEK K7MKLE
VIA PLE
BEK 6VPLE1
BEK 6VMPLE1
BEK 6VMPLE2
VIA PM133
BEK 6VMPM
VIA P4X266
BEK P4VAS
VIA P4M266
BEK P4VAD
BEK P4VAS
SIS-645
SIS-650
BEK P4SAD
BEK P4SMD
NET2100 Driver
TV2100 Driver
Flash ROM Program
RTL 8139 LAN Driver
RTL 8100 LAN Driver
[Trying to figure out how to upload zip files…]
Sears Craftsman 315.25020 Power Plane
These use a special cutter head with integral blades that is no longer available, so my guess is that there are few people still using them. But for anyone who still is, here's the manual.
Sears Craftsman 3/8″ 12V Cordless Drill-Driver
This is the English part of the manual for this drill. Mine is about to be recycled as the battery is dead and I have much better, newer drills. I suspect no one is using these any more.
This manual represents the period when Craftsman power tools had begin to deteriorate in quality. For example, there is not a complete parts list — you're not expected to fix them, just throw them away.
Black & Decker NST2118 Trimmer/Edger
This is the English part of the manual for this trimmer/edger. I am selling mine on eBay because I bought a Ryobi one. The B&D one is better, actually, but the batteries are a pain, and I have lots of Ryobi batteries.
Jaton Video-158PCI Quick Start Guide
This is the manual that comes with the Video-158PCI (GeForce4 MX440) video card.
Apex Data IBA-1414 Modem User Technical Reference Guide
This is a manual that came with an internal 14.4K modem made specifically for the IBM Thinkpad 350C by Apex data. It cost $180 in 1994(!).
While there are probably few if any of these modems still in use, the manual has very extensive technical details of the modem, especially commands and return codes. Such details would apply to many modems of the era.
Sears Craftsman Jointer/Planer 149.236223 Owner's Manual
This is a copy of the user manual for this 4-1/8″ benchtop jointer/planer, which is probably also similar to a number of other models.
I am selling blade sets and belts for this machine on eBay:
Poulan/Electrolux Mowers; Tecumseh Engines & Carburetors
I just retired an old 2002-vintage Poulan/Electrolux push-type rotary mower. So I scanned the manuals before throwing them out and am posting them here. Maybe they will be of use to someone…
The mower was a Poulan model P35TN20SE with a Tecumseh LEV-80 (LEV80) engine.
Toro Rake and Vac Superblower/Vac Blower/Vacuum
Applies to model numbers 51573 and 51591-210000001-up of this machine.
This is a pretty good machine but only works well with very dry, "fluffy" leaves. I gave up on mine and am selling it on eBay. I figured I'd scan and post the Operator's Manual before it's gone.
Craftsman 10″ Belt Drive Table Saw Owners Manual
For model numbers 113.298032 (saw with legs, table extensions, and motor), 113.298142 (saw only), and 113.298240 (saw with legs, table extensions, motor, and hold down).
These saws were sold in the early 1980s.
Craftsman 1-HP Capacitor Start AC Motor Owners Manual
Motor model no. 113.12172, used on early 80s 10″ belt drive table saws and probably other things.
Craftsman Sawdust Collector Owners Manual
This is for model 113.299660. It is used on 80s-vintage Craftsman 10″ belt drive table saws. Not for direct drive saws.
Kenmore 850.5436740 Ductless Range Hood Instructions & Parts List
This is a manual for a 70s-vintage Kenmore range hood. It is for a wide range of model numbers, covering different widths and colors. A list of applicable models is on the first page of the manual. I'm too lazy to type them all in, which probably will make this hard to find by most search engine users.
Kenmore 103.7426641 Gas Range
This is all the printed materials that came with the range. Some of this material is specific to one series of model numbers, others for all 70s-vintage Kenmore gas ranges.
Lafayette TE-13 Pocket AC-DC VOM Meter
This is a small analog volt-ohm meter from the 60s.