1999 BUICK CENTURY LTD
845-429-8380
Sorry, It's Been Sold
This is a white 1999 Buick Century 4-door sedan with 101,600 miles, in good condition. It has a few problems that are listed below, and which make this best considered a project or parts car. It has been well-maintained up to the present, with many new or recent parts, all well-documented. It runs, and drives well enough to be very usable.
If you're looking for a car you can just drive, you need to be OK with a little engine noise and occasional hesitation, and the seats should be in a position good for you. If you don't mind doing a little work on the car, you can end up with a very nice car at a bargain price. Either way, you get a nice well-maintained car you can drive every day.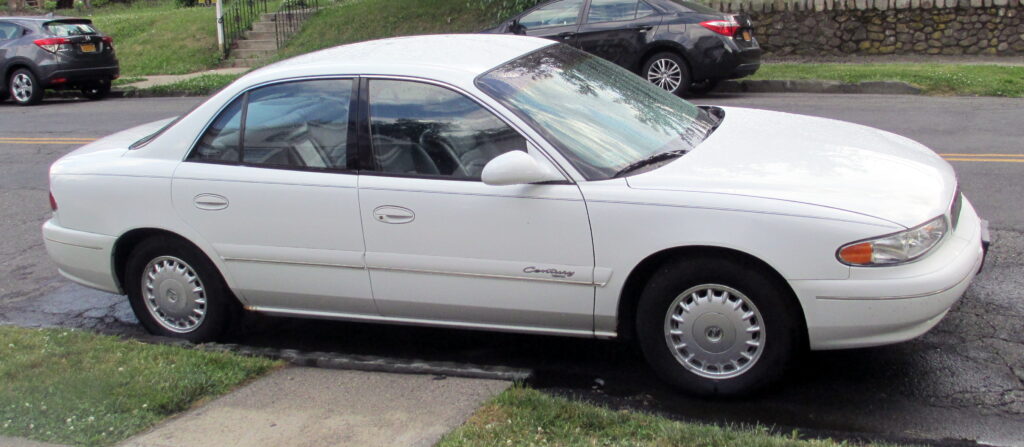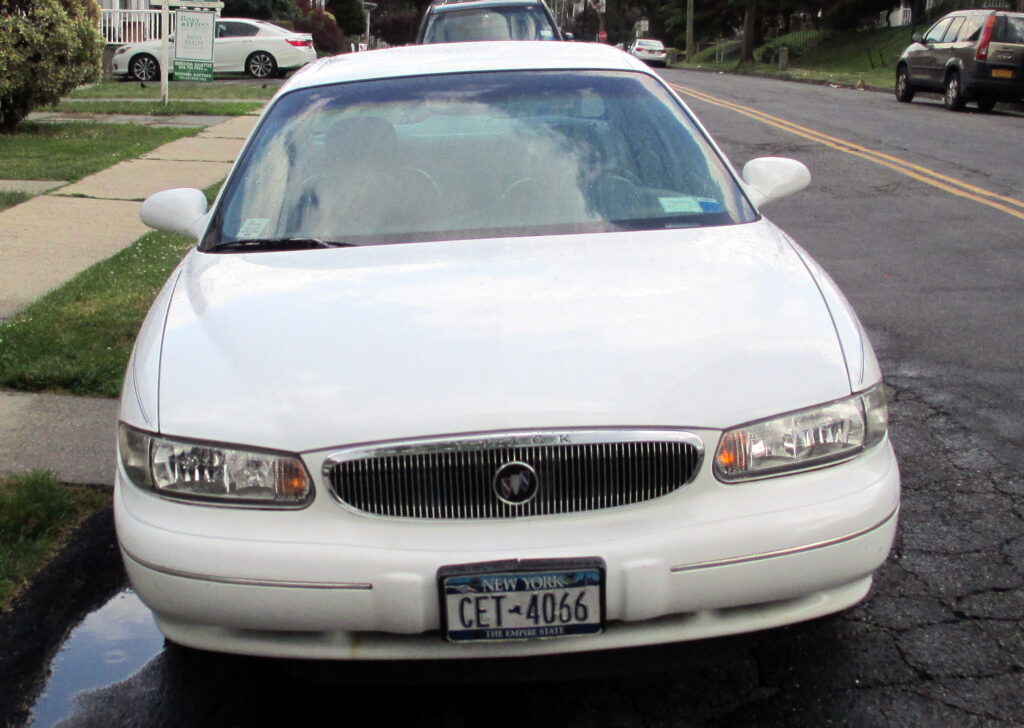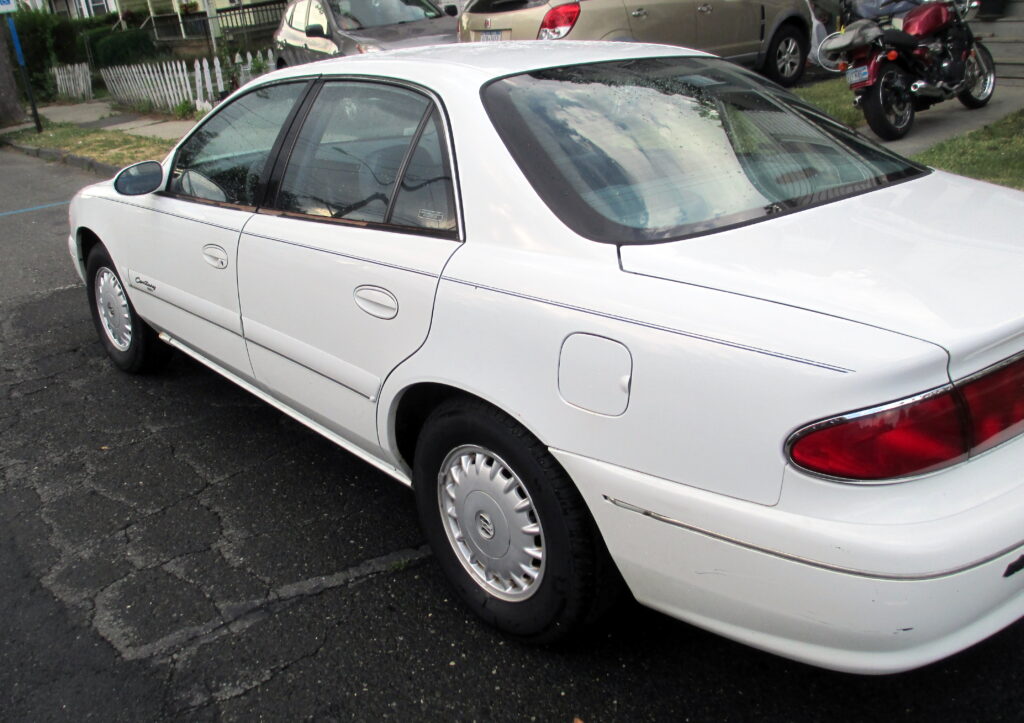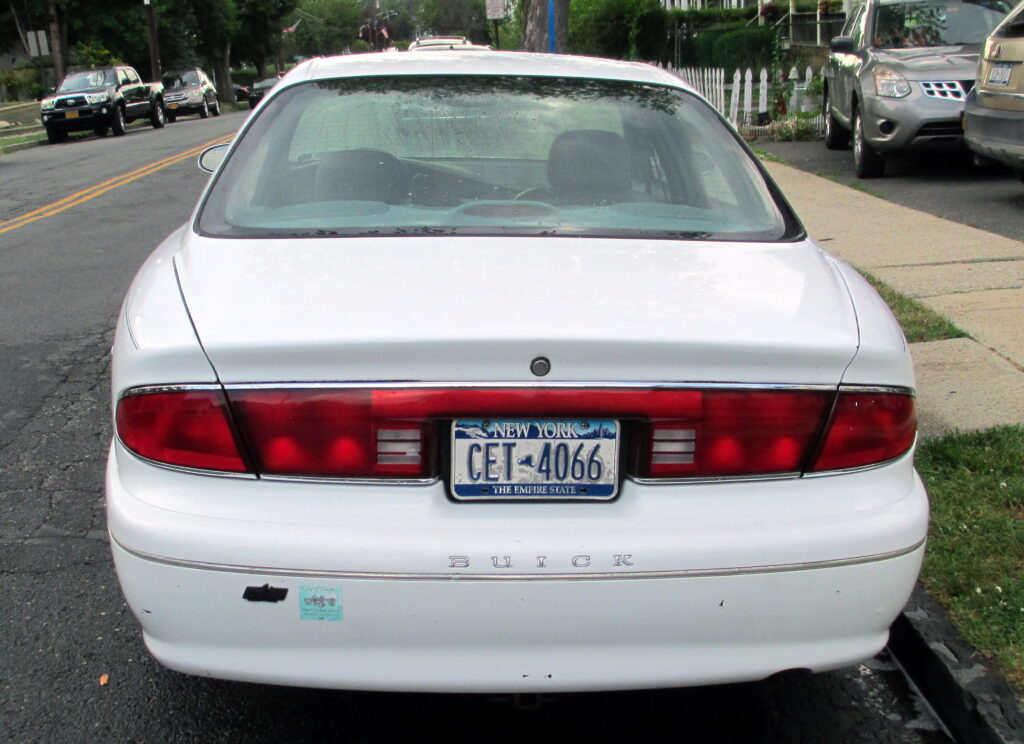 It has the standard 3.1L V6 engine and an automatic transmission. It usually gets a solid 30 mpg on the highway and 20 or so around town, but lately it has gone down to 24/18 mpg. It has air conditioning, which works well. There are no trouble codes and the car has just passed NY inspection.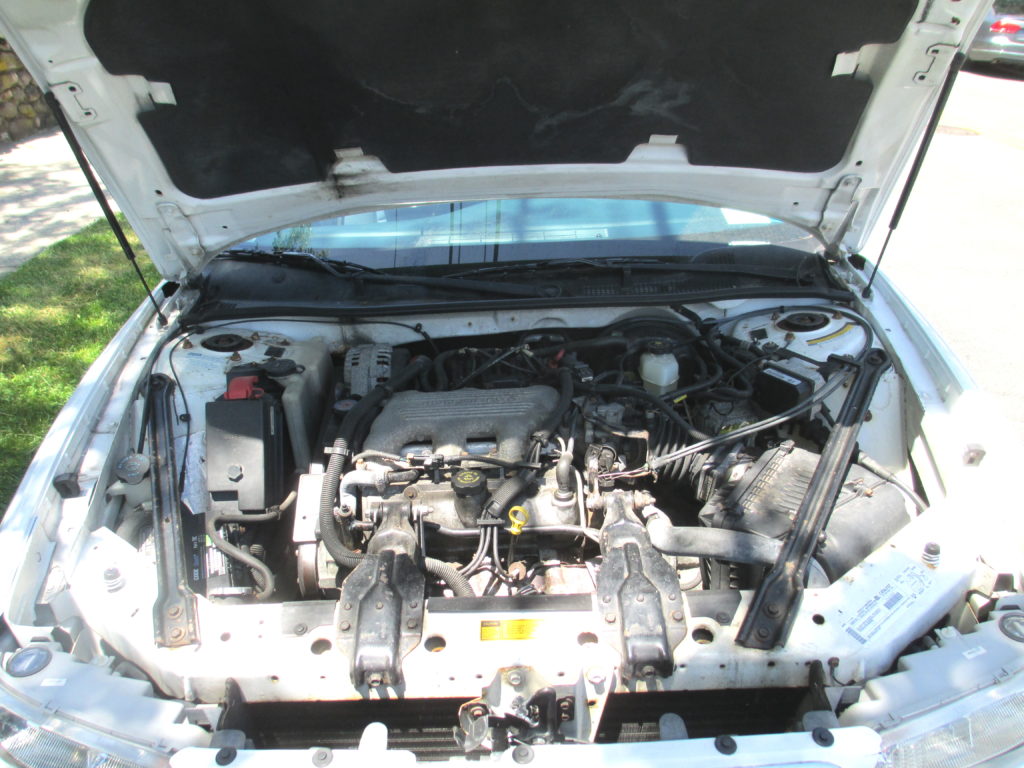 The car has a trailer hitch and trailer wiring. A crate of spare parts is included, along with a factory service manual (three big volumes), and fairly complete maintenance records.
The trunk is clean. The car has a donut spare tire which has never been used and which has been filled to the recommended 60 psi.
The price is non-negotiable. Please do not ask. If the car does not sell, I will lower the price every week or so. If you want to buy it cheaper, just wait (if you dare). As is customary with used-car sales, the car is being sold as-is and cannot be returned.
My father bought this car from a dealer in 2001 with 20K miles on it. I bought it from him in 2009 with 35K miles. I am selling it because it needed time-consuming work (detailed below) and I ended up buying a new car since I couldn't be without a car while I did the work.
Problems
Power Seats: The first problem is that the power seat adjustments do not work. It is supposedly easy to remove the motors and clean them to get it working, and this has been done once already (long ago by the dealer). For now, you shouldn't buy this car if the current seat adjustment will not work for you (I am 5′ 11″ and 210 lbs).
Engine Noise: The engine makes a clicking sound that sounds like valve lifters and which is rather disturbing. It's been making this noise for several years and it has not been getting worse. I've replaced the valve lifters and the sound has not gone away, which means that either the problem isn't lifters or one of the new ones is bad. My latest conclusion is that one of the new lifters was indeed bad. If it was a bad bearing it would have failed long ago. I think that there is a pretty good chance that the engine will continue to work fine for the remaining life of the car. The good news is that you can't hear the noise from inside the car.
Hesitation: There is hesitation when the engine is warm, when trying to accelerate at moderate speeds. If you give it more gas it will downshift and take off. It is moderately annoying but the car is quite driveable as is. In trying to solve this problem I've cleaned the intake, replaced the throttle position and MAP sensors, along with all the injectors. Maybe someone with more experience fixing these cars can figure out what's wrong. It's probably something simple. Fixing this will probably also get the gas mileage back up to 30/20 mpg.
Body Rust: The car is starting to show visible rust at the corners between the rocker panels and the wheel wells. It is quite fixable at this point and not particularly obvious. You could either fix it, or leave it and expect to get a few more years out of it before it gets bad.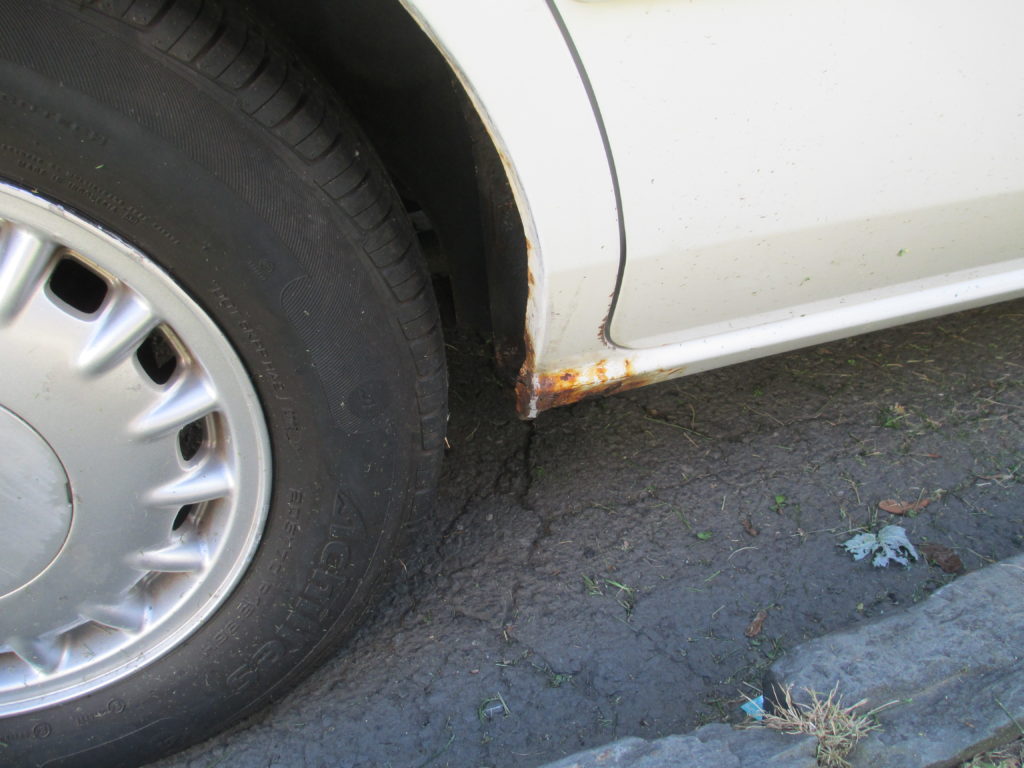 Paint: I've repainted a few places where there were chipped or flaking paint. It isn't the best repaint job, but looks ok unless you look closely. It could probably be rubbed out, which would improve it a lot. There are also a number of small paint chips that should be dealt with or at least waxed. The tip of the driver's side mirror has been broken off (about a 1/8″ piece) and the broken edge has been touched up.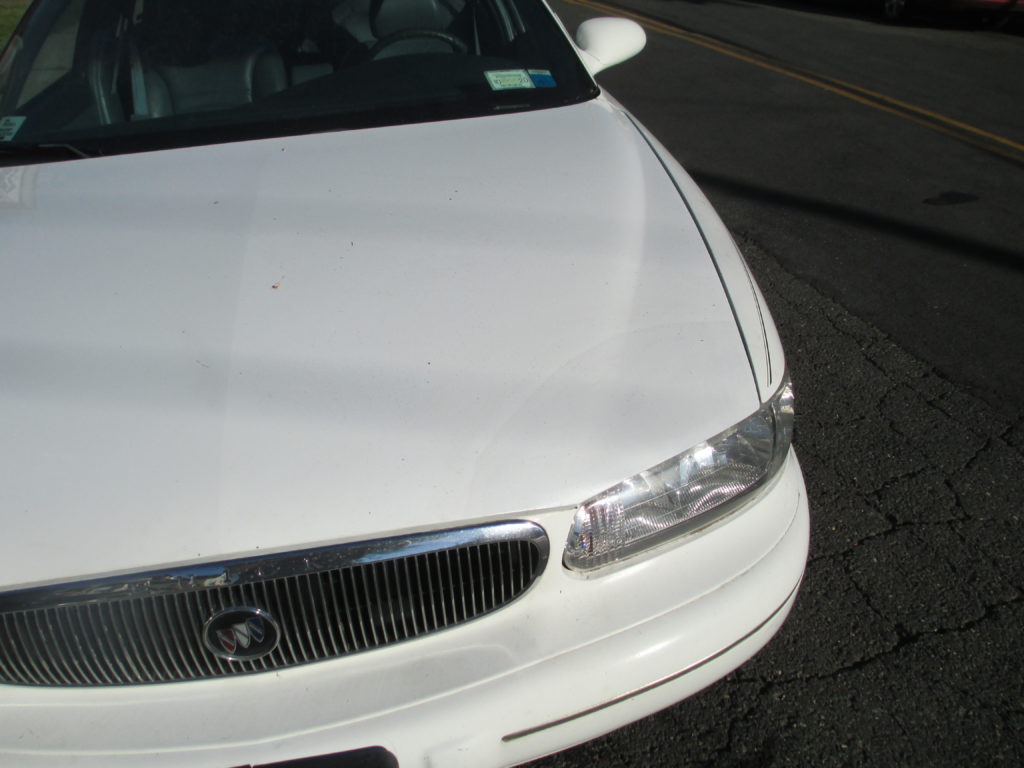 Radio: The factory radio stopped working reliably a couple of years ago and was replaced with an aftermarket radio (a JVC KD-R870BT) with an added control module so the steering wheel controls still work. The original factory radio is in the parts crate.
The new radio has a CD player, Bluetooth, smartphone integration, and lots of other features.
While getting the car ready to sell, the replacement radio stopped working. I've replaced it with a JVC KD-R880BT which should work exactly the same as the old (new) one and have all the same features.
Headlights: The headlight assemblies were replaced a year or two ago because the old ones were getting foggy. One of them leaks a bit, resulting in drops of moisture inside the housing. It would be simple to reseal it with silicone sealer, which should probably be done to avoid potential corrosion.
Door Window Trim: The trim strip on the doors between the glass and the sheet metal is a steel molding covered with plastic. The plastic has largely disintegrated and the steel has light surface rust. These trim strips are expensive and difficult to replace. I have just ignored them. You could do so as well, or try to recoat them somehow without ending up with it looking worse than it does now. At the least you could try to remove the remaining plastic.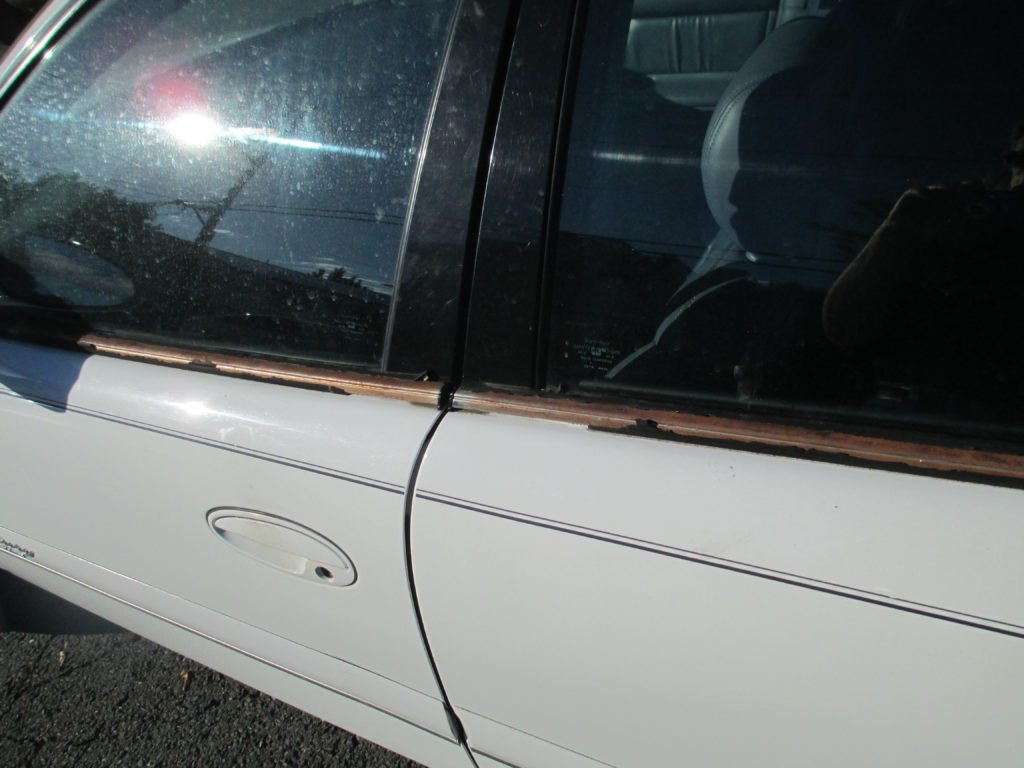 Interior: The interior is excellent overall. Carpeting is intact and clean. Leather seats are in fairly good shape: the rear seats are fine, the front seats have considerable age cracking which doesn't look too bad. There is a small tear in the driver's side seat.
Everything works except for the previously noted power seat motors.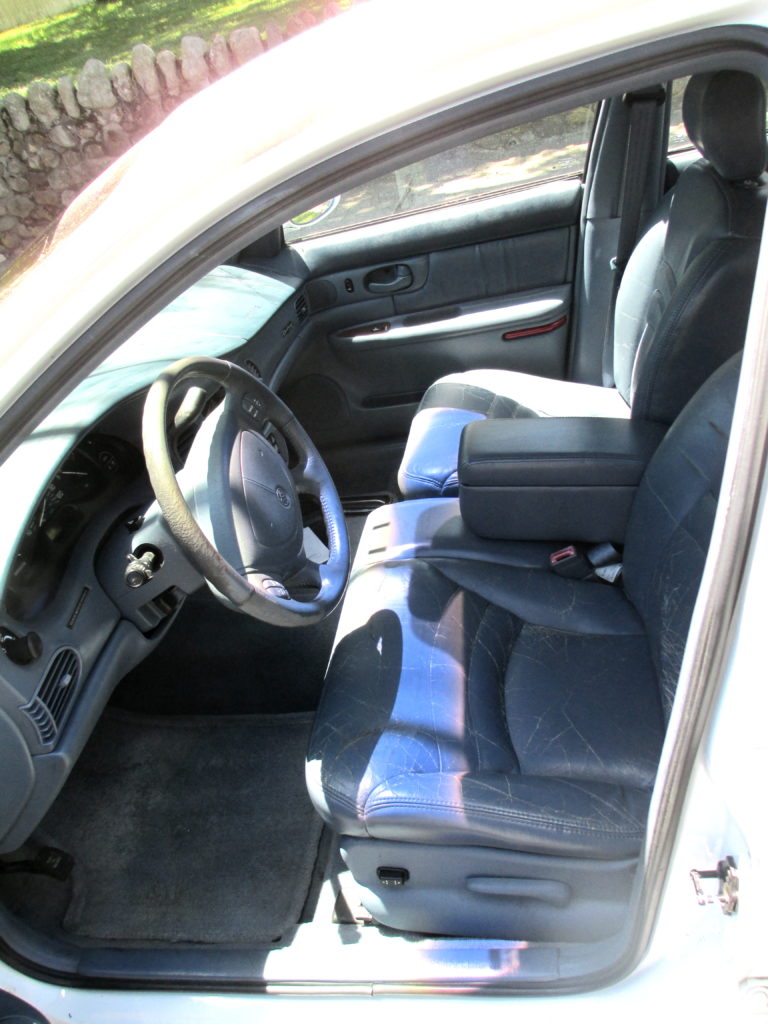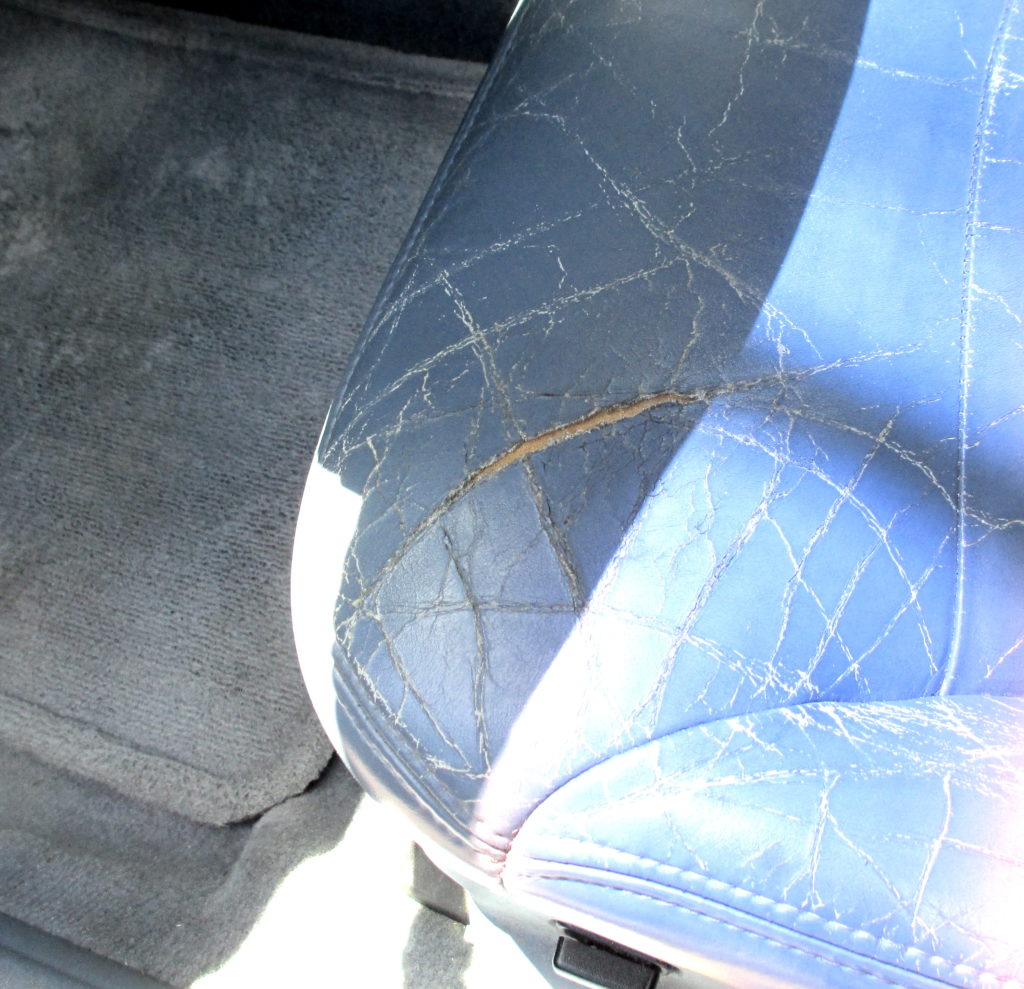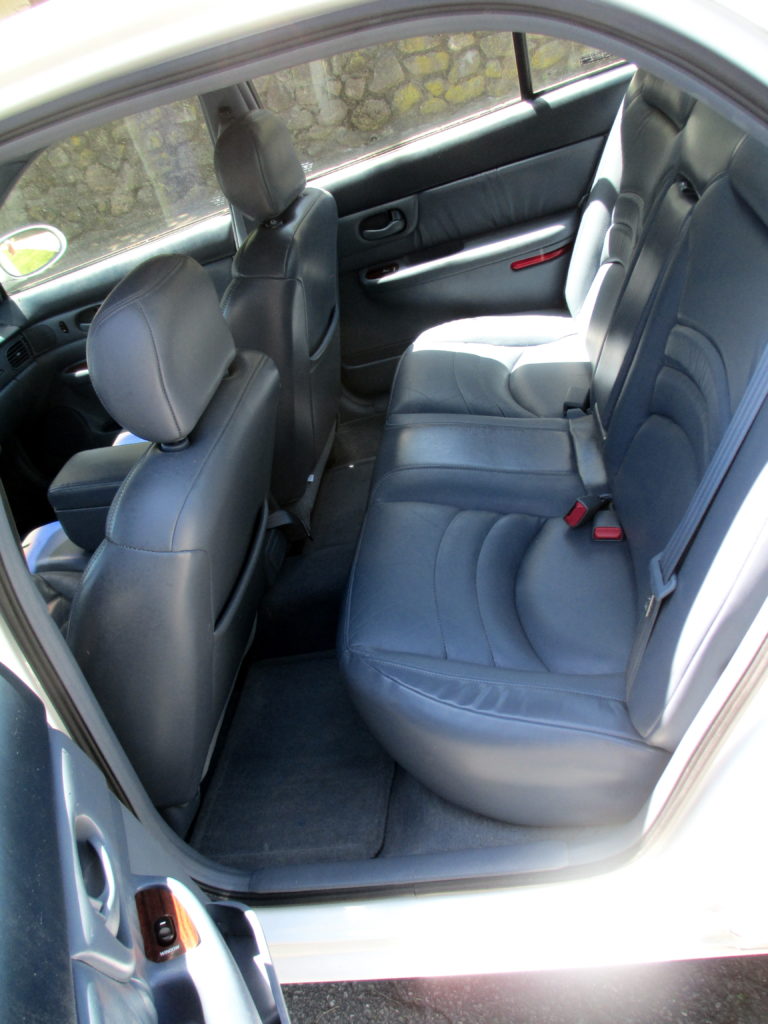 Maintenance Record
Brake Lines: The brake lines rusted out, which is why I ended up getting another car and ultimately putting this one up for sale. All brake lines have been replaced, except for the ones in the engine compartment which were fine. The master cylinder was also replaced.
Note: the car hasn't been driven much since this was done. You should check the brake fluid level every day until you are sure that nothing is leaking. If there is a slow leak and you run out of brake fluid you will have no brakes.
Fuel Lines: The fuel and vent lines also rusted out, resulting in an emissions leak. All lines under the car have been replaced, plus the filler neck. The fuel filter was also replaced.
Note: as with the brake lines, this work was just done. Be alert for leaks. If you smell gasoline, stop immediately and investigate.
Intake System: The TPS and MAP sensors have been replaced and the intake system has been cleaned.
Tires & Alignment: New tires were installed in early 2019 and a wheel alignment was done. The car has been driven about 4400 miles since then. The tires are virtually new.
Battery: The battery was replaced in March of 2018, about 10K miles ago. It should be good for a few more years. It was previously replaced in 2012, so they seem to last six years.
Power steering: The system was flushed and the fluid replaced in March of 2018, about 10K miles ago.
Exhaust system: The entire system was replaced in January 2017, about 15K miles ago. It is still in good shape.
Intake manifold gasket: The 3.1L engine has a known problem with the original intake manifold gasket failing. The gasket has been replaced with an improved version, a year or two ago.
Belts and hoses: The serpentine belt was replaced in August 2016. Coolant hoses were mostly all replaced last year. Neither had failed.
Brakes: Front brake pads and rotors were changed in July 2015, and I think the pads were changed again last year. Rear drum brakes are working fine and pass inspection, but have never been serviced.
Body: There have been a few minor accidents over the years, all professionally repaired.
Trunk supports: The gas-charged trunk lid supports were getting weak and were replaced with new ones last year.
Window regulators: Several power window mechanisms have failed over the years and have been replaced with new ones.
Fuel injectors: The injectors were all replaced a year ago in an effort to solve the hesitation problem.
Valve lifters: All 12 lifters were replaced recently in an unsuccessful effort to solve the engine ticking noise.
Starter motor: The starter was replaced with a new one in June of 2018.
Coils: The three coil packs were replaced last year in an effort to solve the hesitation problem.
Heating system: The heater core was replaced about six years ago and the blower motor about three years ago.
Inside rear view mirror: The auto-dimming feature had stopped working and the mirror had a badly distorted image. It was replaced with a rebuilt one last year, which works perfectly.
Spark plug wires: These were replaced in 2014.
Water pump: The water pump was replaced in 2014.
Fluids: Oil and filter has been changed regularly, and the cooling system has also been flushed and refilled regularly.
Work Needed
The car is driveable as is but some work would make it better:
Engine noise: The clicking noise that the engine makes could be fixed. I wouldn't bother. But if you want you could replace the lifters again, which would take a day's work and about $200. If that doesn't work it probably will require taking the engine apart to find and fix the problem. All the obvious fixes have been tried.
Power seats: If you want or need to adjust the seats you should fix this. It requires removing the front seats which is awkward but not hard. My understanding is that the motors need cleaning to get them to work again. The motors used to be cheap but I don't see them listed at RockAuto any more. I'm sure you can find them somewhere if you need to.
Hesitation: This is probably the most urgent problem. I've tried all the obvious stuff but there is still something wrong. If you are good at fixing such problems maybe you can find the problem, or perhaps you could take it to someone good at troubleshooting. It is probable that whatever is wrong will be cheap to fix (but not necessarily cheap to find).
Door window molding: This is an appearance thing. I would use pliers to carefully remove the remaining plastic covering, mask the molding carefully, remove the surface rust with steel wool, and coat the molding with black rubberized coating. It should come out nice and only take a couple of hours.
Body rust: If you want to keep the car for more than a year or two, I'd fix the rust starting in the corners of the wheel wells. It's a straightforward rust repair: clean, treat with rust converter, use filler as needed, and paint. There are spray cans of matching paint and clear-coat in the parts crate. Note that the paint on the car will be damaged by conventional primer. Buy a can of 2K primer (not cheap).
There are a number of paint chips. I've touched up a few of them. I would deal with the rest of them ASAP. At a minimum wax the car with paste wax to slow down the inevitable rusting.